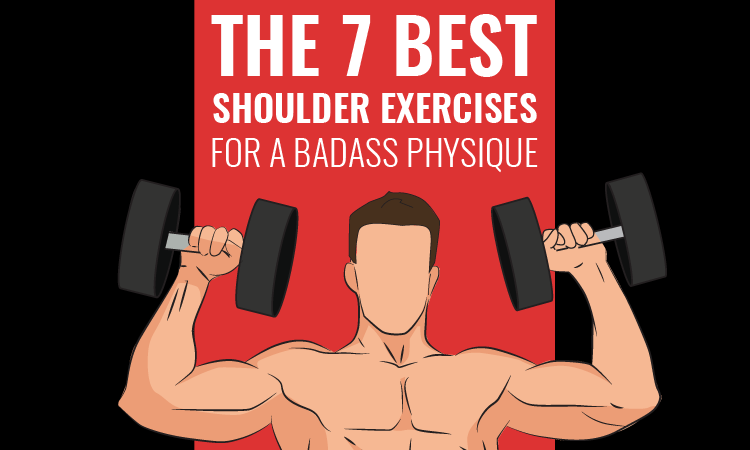 Big arms no longer impress me.
I mean they used to. But nowadays, a guy with overly huge arms who purposefully wears extremely tight clothing just makes me think, douche bag.
Having big arms is great and all but what really impresses me these days is someone with a set of super broad shoulders, V-shaped back, and a narrowly tapered waist. Now that's impressive.
I would much rather have a pair of decently sized arms and really broad shoulders than really big arms and small shoulders.
So if you're struggling with your shoulders, here are the 10 best exercises for building bigger, harder, and more badass looking shoulder. Give these a shot, check out the sample workout below, and start growing your shoulders today.
And remember, perfect form is key when doing these exercises – not only to maximize contraction of the shoulder muscles but also to prevent a nasty shoulder injury (one of the most common gym injuries).
1) Shoulder press (done seated or standing)
The foundation of every pair of great shoulders is built on some kind of heavy vertical pressing. This could be done with either a dumbbell or a barbell and either seated or standing.
There are pros and cons to doing the shoulder press seated vs standing. When done seated, you can typically push more weight, but on the other hand, doing them standing helps train your core.
But no matter which variation you do, just make this a staple in your workout routine.
As a side note, doing behind the neck barbell presses have been shown to recruit more muscle fibers, but the exercise is still far too risky in my opinion especially when done with heavy weights. Use your own judgement here.
2) Side/Front/Rear lateral raises
These exercises really need no introduction. These are best done in the higher rep range (10+ reps) since it's very hard to do them with extremely heavy weights.
Also be sure to try the leaning side lateral raise for a greater stretch and range of motion.
3) Push press
The push press is very similar to the standard standing shoulder press with the slight difference that it's an explosive movement where you use your feet to drive the weight up.
This provides 2 benefits:
You can use more weight than a static standing shoulder press.
You get added the benefit of explosive strength training which teaches you to use more force in less time.
4) Landmine press variations
These are definitely more "under the radar" exercises. Don't know why though, it's a pretty fucking awesome exercise.
Landmine exercises are exercises done with a landmine, which is a rotational device on the ground with a barbell put in the device. This allows you to train in a multitude of directions, that can't be done with a traditional gym equipment.
The downside is that you need a piece of equip (a landmine) which is unavailable in most commercial gyms.
An alternative to this would be to simply place one end of a barbell in the corner of a room but it's ideal if you had the proper equipment.
Here is a video of Ben Bruno showing one variation of a landmine exercise.
5) Lumberjack press
Another awesome exercise that very few people do, the lumberjack press is done with a barbell placed on your shoulder (think bearded Canadian man trekking through a forest with a log on his shoulder).
Here's a video of my buddy Chad Howse doing the lift:
The movement is done by basically pressing the weight over your head from left to right.
6) Shrugs
This is probably the best shoulder exercise on this list that's not even a shoulder exercise.
Most people think that shrugs are mainly a trap exercise, and they're right, they are.
But one of the best ways to build wider looking shoulders is by building bigger traps.
Your traps connect your neck with the top of your shoulders, so if you have bigger traps your shoulders will give off the illusion that they'e bigger.
However despite being a relatively simply movement, most people mess up the shrugging movement by shrugging straight up and down and not at a slight angle.
The video below offers a great explanation on how to properly do shrugs.
Also note that while having larger traps can help contribute to the overall broad-shoulder look, it can also take away from it if you overdo it.
An overdeveloped pair of traps is not a good look so don't overboard.
7) Face pull
The face pull is great for your upper back, traps, and rear delts.
But its real magic for creating more badass looking shoulders lies in its ability to pull back the shoulders and fix the dreaded rounded shoulder look that a lot of guys get as a result from too much pressing.
And even if you don't suffer from the rounded shoulder look, face pulls are still a great exercise to keep your shoulders healthy and offset the negative effects of too much pressing. You should be doing face pulls 2-3x per week.
Sample shoulder workout
Putting it all together, there are a million ways to structure these exercises into your workout plan.
A workout might look something like this:
Shoulder press or push press – 3 sets x 8 reps
Side lateral raise – 3 sets x 12-15 reps
Lumberjack press – 3 sets x 10-12 reps
Shrugs – 3 sets x 8-12 reps
Face pull – 3 sets x 12-15 reps
Of course, the workout above is better suited towards a shoulder specialization type day. But of course, this is just a sample workout you can set your own routine however you wish.
To help grow my shoulders I used the Adonis Index workout since its primary focus is to build your shoulders and give you that sweet V-taper look.
What do you think is the best shoulder exercises? Let me know in the comments.